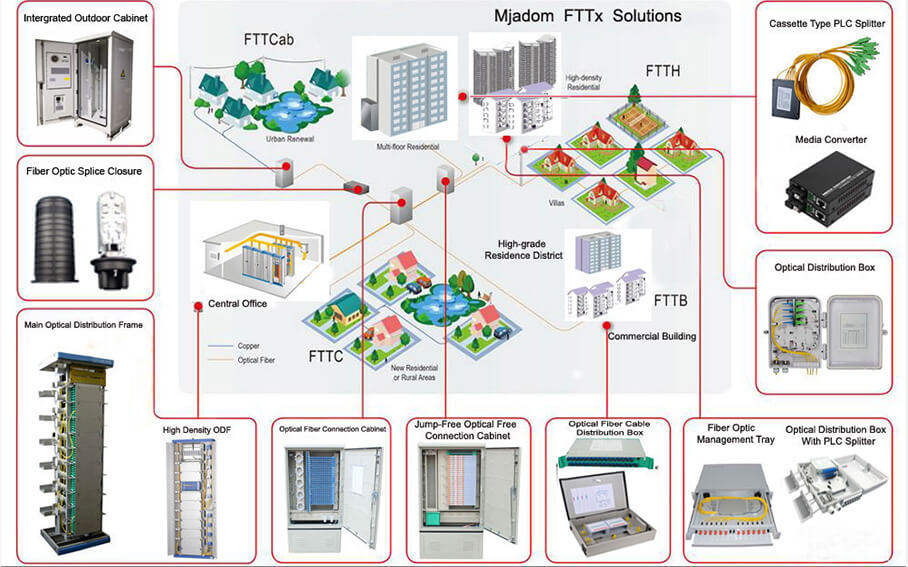 Mjadom offers FTTx solutions for single home residences (FTTH), building (FTTB) and offices (FTTO) and Curb (FTTC), that provides less provisioning, reduced maintenance and low operating costs. The solutions implement important functions such as optical cable fixing, fiber preservation during winding, holding & positioning, grounding protection, connector protection, fiber distribution, and fiber combination and connector deployment.
Mjadom offers a complete end-to-end GPON (Giga-Passive-Optical-Network) solution, including all FTTx coponents along the fibers route - from the central office to the end user :
Optical Cable - outdoor and indoor, Underground and Aerial (including on electric power lines).
Optical Closure - a wide range of Dome or in-line configuration, supporting all mounting options : Direct buried, below grade, Pole or wall mounted and Aerial.
Optical Distribution Frame (ODF) - modular patch panel for installation in 19"/21"/23" cabinets (Node/Curb) enabling both adapters and splice connectivity.
Optical Cross Connection Cabinet (ODC) - Traditional & Jump-Free Optical Fiber Cross Connection Cabinet - could be solutions for organizing, splicing, splitting and interconnecting fibers.
Optical Distribution Boxes (ODB) - outdoor and indoor boxes (for Building and Street) housing various tailor-made solutions for organizing, splicing, splitting and interconnecting fibers.
End User Outlet and Accessories - compact home/office sockets and durable cords.
We are the fiber optic patch cord manufacturer, can provide variety of single mode (OS1, and OS2) and multimode (OM1, OM2, OM3, OM4, and OM5) fiber optic patch cords.
Mjadom offers installers a wide range of tools and equipment required fir the implementation and installation such as Fusion Splice Machines, installation and cleaning tools and test equipment (OTDR, Power Meter & Light Source).
For more technical support or any further service-related inquiries, please contact the responsible persons for details.